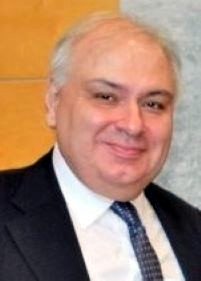 Ambassador Chris J. Lazaris has served from multiple positions within the Greek Diplomatic corps, his portfolio including mandates of international cooperation, like National Representative to CFSP Western Balkans Group, Executive Officer in NATO Operation Joint Guardian and Director for Intercultural and Interfaith Dialogue in the MFA, while currently he is also serving as Special Envoy for Libya. As Chair of the International Holocaust Remembrance Alliance Ambassador Chris J. Lazaris emphasizes the Greek Presidency's determination to accent education as a primary weapon in the fight against Holocaust denial and distortion, and even, as a means of self-defense for Democracies against any resurgence of forces seeking to undermine and attack our common human and moral values.
CURRICULUM VITAE
Born in Athens, March 21 1958
Married to Anna-Antonia Papafaklis
STUDIES:
Batchelor's Degree, Law, National University of Athens, 1981
Diplôme d'Etudes Avancées (Master's Degree), Geography and Politics, Sorbonne – Paris IV, 1996
Author of numerous articles, treatises and presentations, on defense and security, human rights and minorities, Balkan and Eastern Mediterranean Affairs.
Member of several scientific and professional associations, in Greece and abroad.
Languages:
French, Italian, English, Turkish, Russian and Spanish.
PROFESSIONAL CAREER:
1976 -1980
Employed in the private sector, GEMTEC Industrial Company
1980 -1981
Deputy Director for Product Specifications and Bibliography, GEMTEC
1981-1982
Military Service, Hellenic Navy
1982
Joined the Diplomatic Service – Ministry of Foreign Affairs – Athens
1982-1983
Aspirant, Diplomatic Academy, Athens
1983-1984
Attaché, MFA Athens
1984
Secretary 3rd Class, MFA Athens
1984-1986
Desk Officer for EC Enlargement (Spain and Portugal), MFA Athens
1986-1988
Desk Officer for EC – EFTA Relations, MFA Athens
1987
Secretary 2nd Class
1988-1991
Vice-consul of Greece in Istanbul
1990
Secretary 1st Class
1991-1992
Consul of Greece in Istanbul
1992
Acting Consul General of Greece in Istanbul
1992-1993
Secretary 1st Class, Hellenic Embassy in Paris
1993-1996
Counselor 2nd Class, Hellenic Embassy in Paris
1997
Counselor 1st Class
1997-1999
Deputy Director for former Yugoslavia, MFA Athens
National Representative to CFSP Western Balkans Group
1999
Executive Officer for Greece, NATO Operation JOINT GUARDIAN
1999-2002
Counselor 1st Class, Hellenic Embassy in Ankara and Head of the Economic and Trade Mission
2002-2003
Minister Counselor, Hellenic Embassy in Ankara
2003-2007
Minister Counselor, Hellenic Embassy to the Holy See
2007
Minister Plenipotentiary 2nd Class
2007-2010
Director for Intercultural and Interfaith Dialogue, MFA Athens
2010
Ambassador of Greece to the Arab Republic of Egypt
2011
Minister Plenipotentiary 1st Class
2016
Ambassador of Greece to the Kingdom of Spain and Principality of Andorra
2017
Full Ambassador
2019
Special Envoy for Libya, MFA, Athens
2020
Special Envoy for IHRA
Decorations
Commander of the Order of the Phoenix, Greece, 2012
Chevalier de l'Ordre du Mérite, France, 1997
Cross of the Croatian Knot (Red Hrvatskovo Pletera), 1999
Grand Cross of the Order of Saint James, Syrian Church, 2009
Grand Cross of the Order of Saint Sava, Patriarchate of Alexandria, 2014